DPM™ Active Harmonic Filters
Mesta Electronics is a leading manufacturer of active harmonic filters and has built a strong reputation for quality and precision products.
DPM™ Active Harmonic Filters

–Actively reduces harmonic distortion to less than 5%
–Helps meet ANSI/IEEE-519 requirements
–Instantly reacts to and corrects for varying loads
–New Full Color HMI Display
–Reduces utility costs and corrects power factor near unity
–Compensates for single or multiple non-linear loads
–Balances three phase loads and extends plant equipment life
–Compensation provided for all reactive currents
-New Add-on Profile over Ethernet/IP Communications

Click to Download Brochure
About the Mesta DPM Active Harmonic Filter
The Mesta DPM active harmonic filter utilizes high frequency current sensors to continuously monitor the load current. By utilizing highly sophisticated software and a powerful DSP microcomputer, the system is able to instantaneously inject a corrective current from it's IGBT based inverter to dramatically reduce harmonic distortion.

The active harmonic filter helps to meet ANSI/IEEE-519 specifications for single or multiple plant loads under all constant and variable load conditions.

System's can also be configured to simultaneously correct for out of phase current and unbalanced loads, in addition to harmonic distortion, to make the resulting line current balanced, at near unity power factor, and IEEE-519 compliant.

New 3rd Generation DPM Active Harmonic Filters
Mesta launched its new 3rd Generation DPM Active Harmonic Filter in Q1 of 2019. This new active filter has several new features and functions to enhance the user experience, as well as, provide detailed diagnositic information unlike any active filter on the market. Learn about some of these new features below.
New Full Color HMI Display
–Larger Dust Tight LCD Screen for easy viewing
–Allows for the user to evaluate comprehensive historical data from hundreds of on/off events
–Allows for the user to select the desired harmonic correction TDD% to be achieved
–Allows for the user to select the desired Power Factor to be achieved
New Front Panel Interface
–LED Indicators to clearly show status details for the following: Power, Control Status, Power Status
–Allows for the user plug a USB to plug in and download firmware updates to the unit (no additional software required)
–Allows for the user plug a USB to plug in and download historical data from the unit to review
Ethernet/IP or ModBus TCP Protocol Options
–Now options are an integral chip to the active filter instead of a completely separate module
–Allows for more comprehensive information to be review over those protocols
Addon Profile over Ethernet/IP
New Full Color HMI Display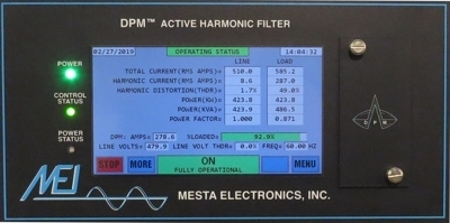 New Waveform/Oscilloscope Display
Performance
The Mesta DPM active filter is a comprehensive solution for harmonic mitigation and power factor correction. Its implementation does not require detailed knowledge regarding the nature of the load(s) or the type of harmonics present. The active filter responds to the exact need as it develops. The degree of the load non-linearity, which determines the amount, as well as, the type of harmonics involved, will determine the activity of the filter.

Shown below are actual current waveforms of a non-linear load with 69.72% THD, the corrective current of a Mesta active filter, and the resulting sinusoidal line current. The resulting sinusoidal line current in this example has a THD of less than 3% and a power factor at unity.


Sample DC Bridge Load
Power Factor (PF) = 0.70
Total Harmonic Distortion (THD) = 69.72%


480V-50 Amp-3 phase delta Mesta DPM
Approximately 85% loaded



Actual Current Drawn from Utility
Power Factor (PF) =1.00
Total Harmonic Distortion (THD) = 2.54%

Applications
The Mesta DPM active harmonic filter is a critical addition to a plant, that is being required to become IEEE-519 compliant. It is a proven technology that ensures a comprehensive plant wide solution for harmonic mitigation.

Open panel designed active filters enable the filters to be directly installed and connected to the bus in a standard OEM switchgear and/or motor control center (MCC). The high efficiency and small physical size of the open panel active filter enables it to be an extremely space efficient solution working with OEMs.

Water Treatment Plants


Food Processing Plants


Waste Water Plants



Industrial Manufacturing Facilities

Hospitals


OEM MCC & Switchgear

Material Growth Facilities


Mass Transit Facilities

HVAC Applications


Models and Configurations
Mesta active filters are available in a variety of sizes, ratings, and configurations in order to better solve a diverse range of power quality issues.

–Corrective current of 50, 100, 150, 200, and 300 amp models available
–Nema-1 Gasketed Enclosures & Open Panel configurations for all active filter sizes
–Open Panel active harmonic filters can be placed in other enclosures or within a Motor Control Center
–Multiple active filters can be installed in parallel for increased corrective current
–Special Rated 600 VAC active filters available
–Ethernet /IP or ModBus TCP connectivity available
Manufacturer's Representatives

For assistance in California please reach out to our representatives Automation Industrial Sales, Inc. in California for fast a local support. Please follow the link HERE to be taken to their site or give a call to 281-456-3568 for assistance.

Automation Sales Inc. is a Professional Manufacturer's Representative firm with over 30 years of experience assisting customers in the: Industrial Controls, Automation, Robotics, Water & Wastewater, Petrochemical, OEM, Industrial Machine Builder, Solar, Wind and many more industries too numerous to list.
​We specialize on assisting customers and distributors with part(s), crossing parts/BOM to our principal lines, providing one on one project support, individual or group product training, product and technical support.
​We look forward to hearing from you and learning how we may assist you with your project. We invite you to download more detailed information on each of the dedicated web pages and give us a call if you have any questions.


For assistance in the Texas Region please reach out to our representatives O&M Resources in Houston Texas for fast a local support. Please follow the link HERE to be taken to their site or give a call to 281-456-3568 for assistance.
O&M Resources, Inc. was established in 2010 as a power consulting firm providing solutions for electrical system issues due to out of date electrical designs. The company is made up technical sales and applications specialists. We have a staff consisting of Electrical Engineers, Electrical Designers, Master Electrician and IT Specialists with over 25+ years each of experience in the industry. Over the past few years, the company has grown into a complete resource for the Engineers and Designers we work with. Whether we are assisting on various applications on capital projects or finding a turnkey solution, O&M can help you find the Right Product for the Right Application.
| | | | | |
| --- | --- | --- | --- | --- |
| | | O&M Resources | | |
| | | Power Quality and Reliability Consultants | | |
Parallel Installation
The parallel installation of the DPM active harmonic filter results in higher overall efficiency than series installed devices. Because of the parallel installation, the active filter does not need to be sized to provide 100% of the current required by the loads. It only has to be sized to provide harmonic and out of phase current drawn by the non linear loads.

Sizing Information
Mesta DPM active harmonic filters only needs to be sized to correct for the harmonic current and fundamental phase shift.
Below is a snapshot of Mesta's sizing estimation tool. We estimate the total harmonic distortion using the total horsepower of all the non-linear loads, if the non-linear loads have any internal DC choke installed, or if there are AC line reactors installed in front of the non-linear loads. The customer can easily see the estimated total harmonic distortion and the recommended size active harmonic filter(s) required to meet the specification.
Assistance in sizing your application or a copy of this sizing estimation tool is available, please Contact Us for more information.